As the years pass by, excess skin and fat inevitably develop in the delicate eye area and creases begin to form. Eyelid surgery is designed to correct these age-related changes, restoring a youthful and refreshed facial expression.
The benefits
Also known as blepharoplasty, eyelid surgery is a transformative procedure that can turn back the clock on facial aging. Depending on your needs and aesthetic goals, Dr. Fenner can:
Trim away excess eyelid skin
Lighten heavy undereye bags
Minimize puffiness around the eyes
Smooth away fine lines and wrinkles
Are you a candidate?
Eyelid surgery is not an appropriate procedure for all Kenilworth, IL men and women. Most of Dr. Fenner's eyelid surgery patients are over the age of 30 and experiencing puffy upper eyelids, excess skin and a tired-looking expression.
In addition, you should be without certain medical conditions to be considered an ideal candidate. This includes hypothyroidism, glaucoma, dry eye, diabetes, high blood pressure and more. During your initial consultation, Dr. Fenner will review your medical history and help you determine if eyelid surgery is a safe option for you.
The procedure
What to expect
Your eyelid surgery will be done under general anesthesia to ensure a safe and comfortable experience. During the procedure, Dr. Fenner will correct signs of aging on the upper and/or lower eyelids, depending on your needs.
Lower eyelid surgery
With lower eyelid surgery, Dr. Fenner will focus on removing excess fatty deposits beneath the eyes and restoring a smooth contour. He will also remodel the underlying tissue to plump any hollow areas and tighten lax muscles. The incision will be made beneath your lower lash line, hidden in your natural creases.
Upper eyelid surgery
With upper eyelid surgery, Dr. Fenner will correct droopy upper eyelids, remove excess skin and subtly elevate the underlying tissues to produce a more well-rested expression. The incisions will be hidden within the natural creases of your upper eyelids.
The recovery
Immediately after blepharoplasty, you will be taken to the recovery room so that our staff can monitor your progress. In addition to red and swollen eyes, you may experience excessive tearing, blurriness and dryness. You will be free to return home the same day, though you will need a friend or family member to drive you.
During your recovery period, it's important to take special care of your eyes. Avoid any potentially straining activities, including reading and watching TV for several days. Take frequent naps and keep your head elevated at all times. For up to one month, you will need to wear dark sunglasses to protect your eyes and avoid anything that could increase blood flow to the area, such as vigorous exercise and heavy lifting.
After about ten days, most of our Kenilworth, IL patients can return to work and their normal daily routines. However, Dr. Fenner will provide you with a personalized timeline during your post-operative appointments.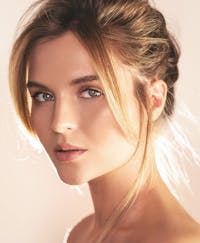 The results
Dr. Fenner's eyelid surgery can restore a bright and refreshed expression that you haven't seen in ages. The results are extremely long-lasting and can endure for years as long as you continue to care for your skin.
Once healed, the scars associated with your blepharoplasty should be virtually imperceptible. Dr. Fenner carefully places the incisions within the natural creases of your eyes to ensure a discreet final result. In other words, everyone will notice your more beautiful and youthful appearance, but no one will know exactly what's different.
Schedule a
consultation
Eyelid surgery with Dr. Fenner can take years off your appearance. To learn more about blepharoplasty and the beautiful results that are possible, we invite you to contact our Kenilworth, IL office today and schedule a private consultation.